Psych Siren Management Consultancy is a Davao-based, multi-disciplinary team composed of 8 prime movers, led by Jambie del Rosario.
The team is composed of seasoned professionals with various expertise in the areas of human resources, psychometry, counseling, process facilitation for strategic planning and team-buildings, executive coaching, sales, marketing, business operations, and policy formulation. We leverage these strengths to come up with a holistic transformational organization and learning and development programs.
As an organization, Psych Siren envisions a world that champions continuous personal, team, and organizational growth and transformation resulting in communities that are healthier, wealthier, and happier.
We work with clients across the private and public sectors to empower and enable them to meet the challenges of the times with pioneering creative and innovative programs, activities, and solutions for their evolving contextual landscapes.
Our clients range from micro to large enterprises in various industries such as local government agencies, law firms, and manufacturing and mining companies.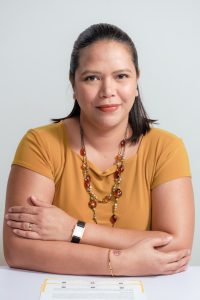 I am Llewelyn Muriel A. del Rosario, quite a long name which qualifies for a tongue twister which is why I got stuck with Jambie, the feminine version of my Dad's nickname Jambo.
Growing up with a turbulent upbringing in Davao City, Philippines made me deem suffering as the crucible through which our character is forged. The difficulties I had to go through made me believe that failure is not an option. This is evidenced by a flourishing career as a management consultant committed to deliver dynamic and creative HR OD and Learning and Development solutions for companies, having recently pivoted into this role after more than two decades as a Senior HR Professional for industry giants such as SM, Globe Telecom, Philsaga Mining Corporation and the Marsman Drysdale Group of companies.
This commitment to excellence is also exhibited by the fact that I was conferred the title of Competent Communicator from Toastmasters' International, a Certified HR Professional from the International Federation of Professional Managers, an Associate Fellow from the Accreditation Council of the Philippine Society of Fellows in People Management, and a Master's Degree in Industrial and Organizational Psychology from the Ateneo de Davao University.
My experiences also transformed me into becoming a passionate advocate for bringing psychology into mainstream consciousness. As a result, this blog called the Psych Siren was born. It aims to bring psychology into the forefront of public awareness by serving as a siren, an alarm bell to signal the importance of psychology in everyday life. I am also working on a novel called The Constellation of Chaos, which is a testament to the tenacity of the human spirit. I hope to finish it as soon as it is humanly possible given all the things I am doing.
As a pantheist, I believe in sending good juju all around.
I am happily married to Manolo, who has earned the moniker "my Manolet" for being a devoted and loving husband. Together we have an adorable, well-adjusted daughter named Brie in part due to our upbringing but also because she is a gentle, tenacious, old soul who loves learning and adventure.